MarketWATCH Muskoka: 12 March 2019
There's an old saying about March "In like a lion, out like a lamb" the reverse is also true. In essence it's saying March will begin or end with a storm. We've certainly had lots of storms lately, so another won't be a surprise. A couple of weeks ago the GTA was pounded and cottage country received a light dusting.
The snow here is deep and crisp. Nights are in the -20C range and we're still making ice. Winter is with us and will be for the next few weeks even though the sun is streaming in …
That doesn't stop people from dreaming about summer. Our team has been involved in showing, selling and listing already. Snow's getting in the way, but it's not stopping the most intrepid. Listings are coming to the Board and you'll note below the number of new listings is increasing across all ranges.
Over the next couple of weeks, we want to provide you with a snapshot of what your money will buy. We have broken our trading area into its component parts: Parry Sound, Muskoka and Haliburton as well as the Big 3. This week we're talking about entry level or starter cottages in those three areas. Next issue we'll take a step up and then the high end after that.
This is what we're calling a basic cottage: It may not be year round. The cottage will need work at lower price levels. For a 3 bed 1 bath cottage on mainland with road access and waterfront between 90'-125' the price range and number of properties sold varies by geography in 2018.
Parry Sound: 20 properties SOLD ranging from $300K-$698K. The median price was $458K
Muskoka: 25 properties SOLD ranging from $290K-$879K. Median price was $520K and two of these sales were on the Big 3 at $879K and $805K
Big 3: 2 Properties SOLD – mentioned above. To get to 20 properties SOLD, criteria has to change to 3-4 bedrooms with 2 baths. Price range $699K-$1550K. Median price was $1,140K
Haliburton: 42 properties SOLD ranging from $275 – $797. Median price was $455K
Here's what's happened since our last Marketwatch…
1026 Inchiquin Road, Gravenhurst
$2,995,000.00 – MLS#177534
Kahshe Lake
New construction, custom build on Kahshe Lake – this property checks all the boxes! This extremely unique property sits on a large point of land with beautiful views of the lake, clean landscaping, 400 feet of frontage, 6.36 acres with ultimate privacy and exquisite sunsets. Enjoy high end finishes throughout, large open concept main living area with chef's kitchen featuring an over sized pantry, top of the line appliances, Muskoka room off the kitchen, and living room with floor to ceiling windows framing the exceptional view of the lake. This 4 bedroom 4 bathroom cottage has ample space for entertaining all seasons of the year. Additional living room with games area located in the lower level perfect for family and friends. Located under 2 hours from Toronto, and just outside Gravenhurst – this new build by McAulay Construction is close to all amenities Muskoka has to offer. Site prep completed and ready for coach house at Buyers discretion. Click here for more property details.
1200 Stephen Road, Port Carling
$1,895,000- MLS# 180407
Silver Lake
Modern Touch meets Muskoka Rustic defines this beautiful new cottage on Silver Lake.The brand new build features open concept living area, including a gorgeous kitchen and a stunning coffee bar. The high ceilings and unobstructed views of the lake make this cottage a dream come true. The main floor master bedroom has a beautiful en-suite and private deck.This fully winterized four bedroom cottage has everything you have been looking for. Walkout to an oversized deck with lots of room to entertain and the most stunning Muskoka Room.Enjoy lots of privacy with over 260 feet of frontage, and the best beach in Muskoka! Click here for more property details.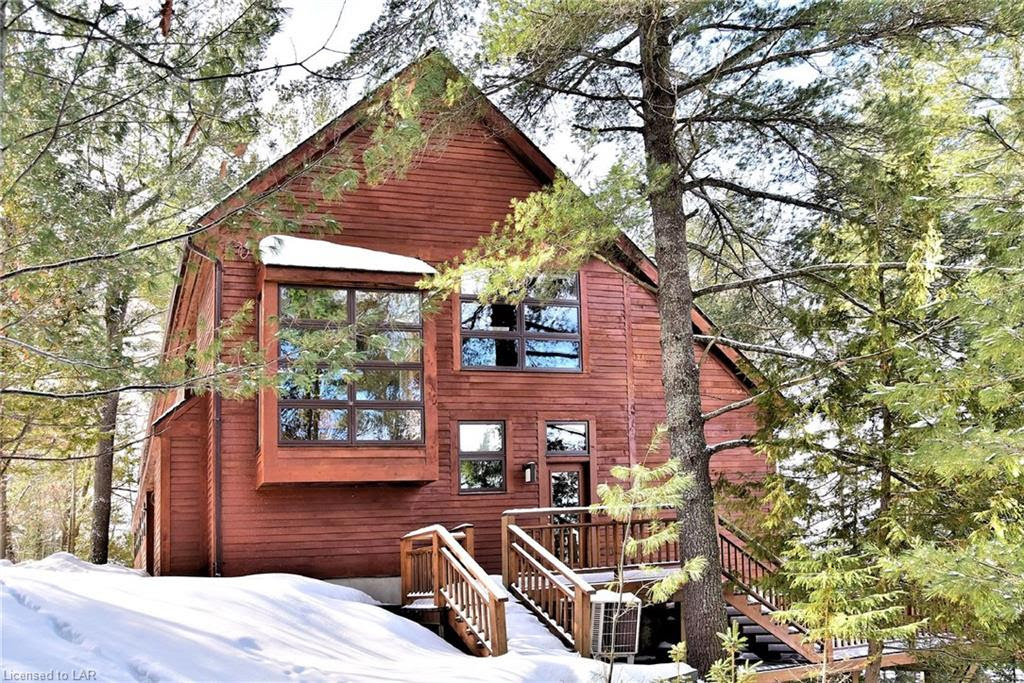 1200 Niddries Lane, Haliburton
$1,475,000 – MLS# 179864
Drag Lake
Stunning 3 bedroom, 3 bath water front home perfectly situated on 1.91 acres. Overlooking popular Drag Lake with 400 feet of frontage. This 2,245 sq ft home provides ample living space for your family to enjoy as a year-round residence or as your family's home away from home. You will enjoy hosting family dinners in the updated large kitchen finished with oak cabinetry, built in appliances, silestone quartz countertops, large island, heated floors and high-end fixtures. Formal dining room with walk out to a private screened in porch or dining area with walk out to side deck providing additional hosting space. Stay warm while you relax in front of the stone fireplace with large windows to enjoy the western sunset views. Massive master bedroom finished with quality-built ins, headboard, side tables and dressing table. Abundant closet space and walk out to a private balcony. This gorgeous home has everything on your family's list and more. Click here for more property details.
380 BETHUNE DRIVE, Gravenhurst
$699,000 – MLS#: 180576
Gull Lake
Literally one of the longest and most beautiful views down Gull Lake this is a rare property with full municipal services and 152 ft of frontage. This level lot features a great place for kids to play, shallow sandy bottom, double car garage and one floor living. Inside there is no doubt there is some work to finish off such as new flooring and complete many finishing touches around windows and door frames. A great template to complete however it has been a working, lived in year round waterfront home for years. Forced air gas furnace, 3 bedrooms and 2 bathrooms and interior access from the garage is very appealing. Very close to shopping, the YMCA is merely a 5 minute walk too so it offers tremendous convenience on many fronts. Click here for more property details.
Give us a call if you're in town,
Laura, Lucy & Ross
The Rosskoka Team
RE/MAX Hallmark in Muskoka
www.Rosskoka.com
705-706-1177