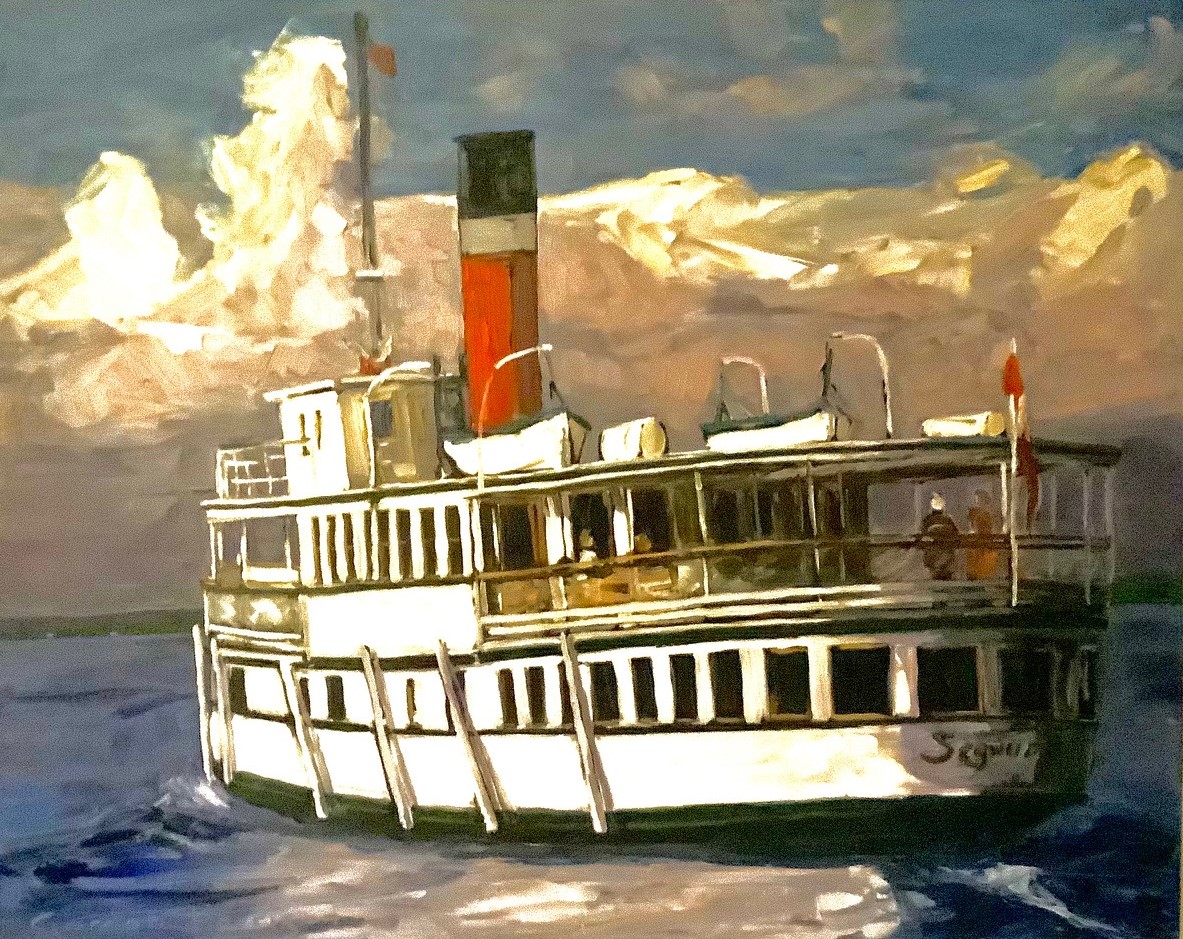 Segwun by Gordon Harrison
MarketWATCH Muskoka: 7 July 2022
At the height of the steam era, Gravenhurst Wharf was a hive of activity. Passengers disembarked from the train🚂 onto the wharf and from there directly onto one of several steamships. For those going north to Royal Muskoka, Windermere, Pinelands or Elgin House (to name only a few of the resorts above the locks in Port Carling) the trip from the city could still be hours before its end.
Those ships🚢 carried passengers, groceries🍉, mail✉️, animals🐎, hardware🛠️. You name it. Whatever the resorts or cottagers needed, was brought by water💦. It wasn't all business, though. The 'Hundred Mile Cruise' from Gravenhurst to Port Colbourne at the top of Joe and back again was a day-long excursion on the water. Business or pleasure, the steamers of Muskoka made the lakes a unique destination for cottagers and visitors alike.
Today cruising the lakes is still a wonderful way to enjoy the area. There are at least 5 watercraft plying the lakes for commercial adventure. RMS Segwun is the Queen of the lakes, dating back to 1886. Wenonah II is the largest craft and a wonderful replica of those early ships. Peerless has served Muskoka for more than 70 years. Recently, Lady Rosseau and Muskoka Gaga joined the fleet. Sightseeing, sunsets, dinner aboard are available on a scheduled basis or private charter.
Summer😎 is here and Muskoka is humming. It's a happy tune.🎶 You might want to stay! Here are some of the 🏡cottage highlights for the past week…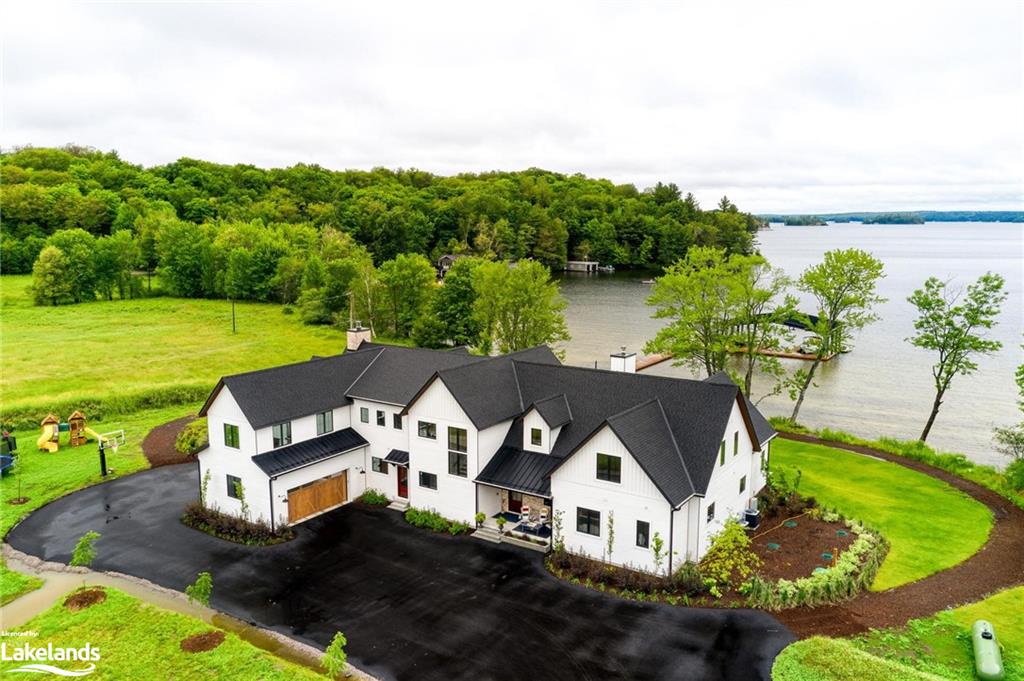 3042 HIGHWAY 118 Highway W Unit #6, Port Carling
$11,999,000 | MLS# 40234398
LAKE ROSSEAU
Welcome to Rosseau View Farm. A Modern Farmhouse situated in the most Southerly Bay of Lake Rosseau. Recently built, this 7400 sq ft home-away-from-home offers resort-like living in a farm-like setting. 36 acres of fields, rock outcroppings, and trails surround the primary home, providing privacy and space yet only 3 km's from Port Carling. Opportunities are endless with open areas prime for helipad, tennis courts, archery ranges, and/or bring the farm back to its roots with existing barns to help house livestock or horses. This unique offering consists of 2 separate lots. The separated land allows for additional homes to be added as the family grows. The Farmhouse is situated on a completely level lot allowing for ease of access. Golf cart trails have be added that connect the primary dwelling to farm area, and plane/boat parking to help minimize efforts welcoming guests arriving by air. Minimal stairs have also been deliberately designed out of the living spaces and an elevator in the home makes all floors accessible. Sunsets over farm fields, sandy shorelines, connected endless sled trail systems, and luxurious amenities by the handful; this is a property that needs to be seen to be appreciated.
Click here for property listing details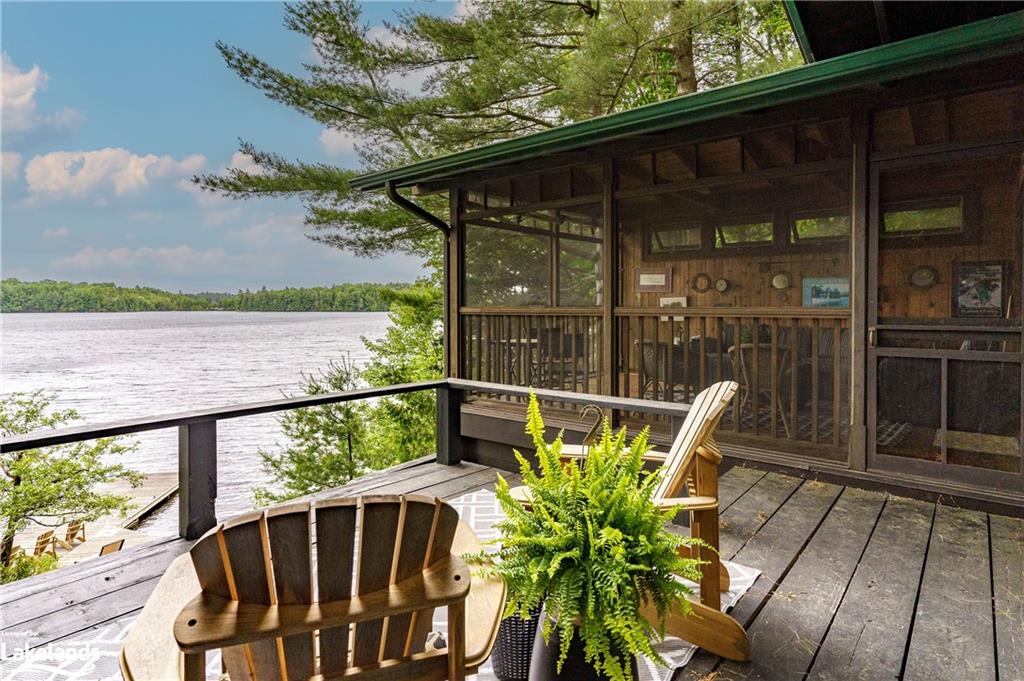 1352 MORTIMER'S POINT Road Unit #1, Port Carling
$2,495,000 | MLS# 40282072
LAKE MUSKOKA
A perfect long, sunny SW exposure over gorgeous Lk Muskoka looking towards Meda Island, from the coveted Mortimer's Pt shoreline, puts this furnished 4 season 3 bd (+1) 2 bth cottage less than an 8 minute drive from downtown Pt Carling, in the very heart of Muskoka. When you include the Mus rm and the lower bdrm there is almost 1500 sf of living space. This is an area of many very high end cottages on the lake, as a location this close to Port Carling is highly desirable. All the amenities of Muskoka are central to this very convenient location which provides 100 ft. of shoreline with smooth rock outcroppings and towering historic pines, on just over .6 ac. The shoreline has deep water. There is easy, level, year round access off a paved 4 season municipally maintained road. The cottage is an appealing open plan traditional 3 bdrm 2 bthm, with a gorgeous screened Mus room, totally private and protected deck, and rather than a bunkie there is an additional 4th bdrm below the cottage, close to a charming outdoor shower. The basement is dry and is excellent for storage. A washer and dryer could be installed in the basement. A Generac generator is there to provide electricity during power outages. This cottage at 1352 #1 Mortimer's Point has been well maintained over the years and the Sellers are not aware of any major concerns. They have had both an Electrician and a Home Inspector recently check the cottage, in June 2022, and provide reports. The cottage is being sold 'as is' but with these reports available to serious parties, there should be no surprises. Being a traditional and grandfathered property, the deck railings don't match the current construction code, but all those things are detailed in the Inspection Report, so that everything pertaining to the cottage is as transparent as the Sellers can make it, for serious Buyers. Don't miss this opportunity to enjoy all that Muskoka has to offer in 4 seasons, from this well located and maintained cottage.
Click here for property listing details

1805 PENINSULA Road, Minett
$1,949,000 – MLS# 40287354
JOSEPH RIVER
Relax and Rejuvenate at the cottage. This charming cottage contains the perfect space for you and your family to enjoy Muskoka Summers on Lakes Joseph, Rosseau and Muskoka. Inside you will find 4 bedrooms + loft and an open concept kitchen dining and living area. In addition, a family room and large screened porch area with lake views and access to the waterside deck that spans across the front of the cottage and in some places sits no more than 20 feet from the waters edge. This deck is large and provides enough space for a dining and seating area and is one of the most relaxing places on earth! Especially for parents, as the waterfront is in view and easily accessed. The land here is private and spacious with gentle topography and tall, mature trees in a picturesque natural setting. The waterfront is protected and provides hard packed shallow entry to the lake as well as the ability to dive from the dock. At the water you will also find an existing one slip boat house with flat deck top that not only will house your boat year round, but provides a great space on the water to enjoy the sun all day long. With long lake views, immediate access to Lakes Joseph and Rosseau and plenty of sun and shade you won't want to leave this slice of heaven. This location is central to a wide range of activities in Minett, Port Sandfield and Port Carling which offer great dining, shopping, fitness and entertainment and can be accessed by boat or car. Nearby Marriott on Lake Rosseau offers an array of spa treatments, self care and relaxation options. **The Owners have plans for a new boathouse, please see the last photo in the listing presentation as the inspiration for the boathouse design. Call today and don't miss your chance to make your cottage dreams a reality.
Click here for property listing details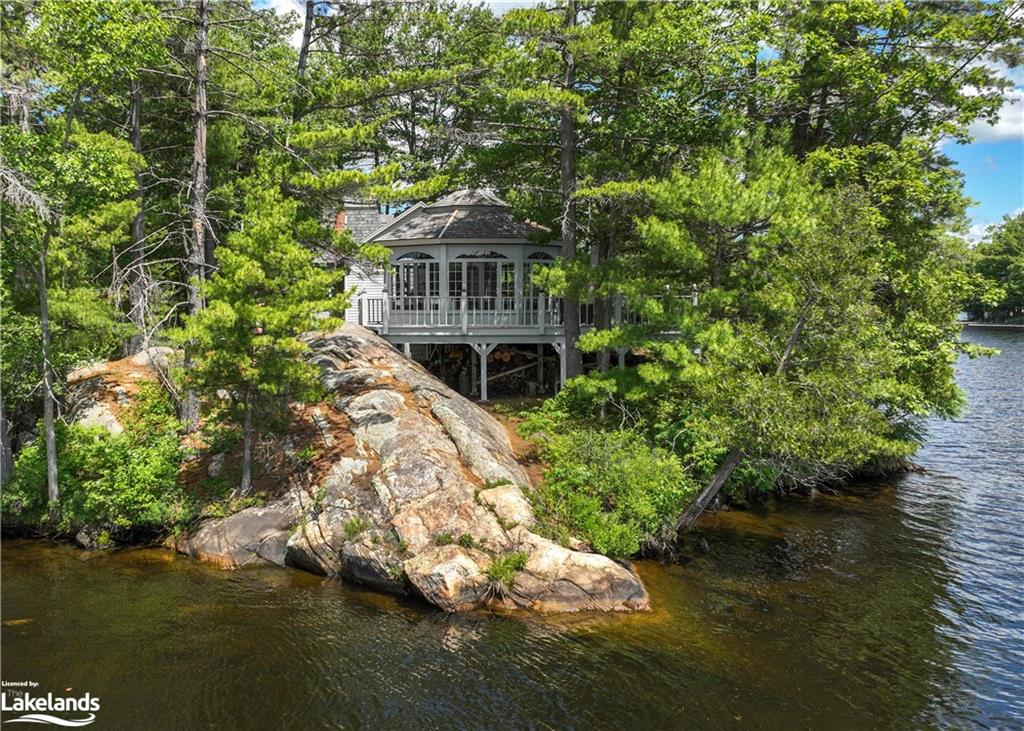 3SR 1 Island, Gravenhurst
$1,050,000 – MLS# 40286400
SEVERN RIVER
A family paradise that will take your breath away… now is your chance to own a private island escape in muskoka. This incredible cottage with unreal panoramic views and the pristine grounds it sits on is located on Kinney Island on the Severn River and is part of the Trent-Severn Waterway… from the minute you pull up to the dock you will be greeted and wow'd by the beauty of nature and serenity… the beautiful flagstone pathway leads you to the cottage and the bunkies that are all designed with elegance while keeping in touch with the rustic cottage vibe… the main cottage hosts a modern updated kitchen with stainless appliances, amazing views and stairs leading to the loft bedroom that has a lighthouse feel and skylight. The gorgeous living room has vaulted ceilings, stone wood fireplace and wood floors. The gazebo room is out of this world consisting of walls of windows and incredible 360 views, a wood lined vaulted ceiling and walk out to the wrap around deck. The spacious 3 piece bathroom has wood floors, pine lined ceiling and a compostable toilet. two amazing bunkies with the same modern rustic flare and great views to host family and friends… How cool that one of them was converted from the original boathouse …cottage being sold with all contents including paddle boat and aluminum outboard boat with Johnson 1500 hp (and excluding a few items, seadoos and bow-rider boat are available at an extra cost). A short boat ride from sophers landing, enjoy dinner out at the Waubic restaurant, 40′ floating dock, uv filtration, amazing fishing, newer shingles, there is one bedroom currently in main cottage and 2 bunkies… sq ft does not include bunkies (10×17.11 & 11.4×9.2)… It's an absolute "must-see-it-to-believe-it".
Click here for property listing details
$595,000 – $1,099,000 – Click here
$1,100,000 – $1,999,000 – Click here
$2,000,000 – $3,999,000 – Click here
$4,000,000+ – Click here
Islands – Click here
Mainland Riverfront – Click here
Vacant Waterfront – Click here
Pending – Click here
Price decreases – Click here
Ready to take a closer look? Drop us a line at 705.706.1177 or info@rosskoka.com
Lucy & Ross
(705) 706.1177
Rosskoka.com
RE/MAX Hallmark Realty Inc.
Bracebridge