MarketWATCH Muskoka: February 2021 edition
Most years, for us in cottage country, winter is a time to catch your.breath. It's a time to plan for the coming year. This year is not the same. Last year's busyness has continued. People have learned that working from home means home can be just about anywhere. Why not make home where you want it to be?
True, the number of listings is smaller, but activity is no less intense. People are clear they want waterfront property. They are willing to make the trek, in some cases trudging through knee high snow, to find their quarry. Some still arrive with toe rubbers or smooth soled shoes on, making the day all the more memorable.
The scenery is beautiful. Clad in its winter white, the near north is a postcard almost everywhere you look. It's not just the cold that takes your breath away.
Muskoka, Parry Sound and Haliburton really have snow. It may look like a postcard, but it's real. It's deep and it's cold. Be prepared for it. Wear boots. Sorels are great. Bring a hat and gloves. At the time of writing, the temp is minus 14. Coming to the near north in winter is not a walk in the park, unless of course it's Algonquin. If you don't have snow tires, make sure you're packing a shovel. Truly, it's a matter of survival.
We'd love to see you and we want to know you can get home safe.
While you are here, COVD rules apply. Drive throughs are open. Stores, other than food stores and pharmacies are not, except those having curbside pick-up. The local bud shop always has a couple of people at their sidewalk counter.
But we're guessing you might prefer to get high on finding the place that fits your dream. We can help. Last year we helped more than 40 families find theirs. They spent more than $50 million all told. Those properties ranged in price from the $500's to over $6 million. We cover the waterfront.
This year we're excited to have Derek join us. Derek's an accountant by trade. He understands numbers. We first met when he and Laura bought an investment property more than a dozen years ago. Laura's been a member of Rosskoka Team for 5 years, while Derek continued his accounting practice. Some time ago Derek started working in the commercial real estate sphere. It was an extension of his client work. But as a lifetime cottager, Derek knew where his heart lay. As Laura's business grew it became clear that putting heart and mind together made sense. He knows the journey and he knows the terrain. He grew up here. For deep experience and analytical understanding, Derek is gold.
Take a look at what has come to market. Questions? That's what we're here for. If you're coming up, bring your boots!
410 Grassmere Resort Rd, Huntsville
$5,395,000 – MLS# 40057649
Peninsula Lake
Not sure if it's the lake views from every bedroom, the bar area, or the sauna that made this my first choice… Perfectly located to provide privacy with over 207FT of shoreline to enjoy a gorgeous South West exposure with sun all day. This brilliantly well designed brand new custom built Muskoka cottage offers 4,000 SQ FT, 5 bedrooms and 6 baths. Quality built and warrantied by SML fine home builders this Cottage features an open concept interior great for entertaining. Comes fully furnished with a custom kitchen with Meile appliances, Muskoka room with powered screen, 5 fireplaces (2 wood, 3 gas) large great room with custom finishings and expansive lake views. Main floor master with ensuite. Enjoy beautiful wide plank solid wood floors throughout with custom tile accents. The lower spa wing includes a gym, sauna and outdoor gas fireplace waiting for a hot tub. 3 wifi booster hubs and security cameras, complete with A/C and back-up generator. An additional 1000 sq ft two car garage over another garage bay and 1000 sq ft heated walkout workshop plus a 650 sq ft loft for storage or future development. 54 ft dock includes a 20×24 ft party platform. 10 mins to the town of Huntsville and all amenities by either boat or car! Attach 801 form and schedule B to all offers. Click here to see property details.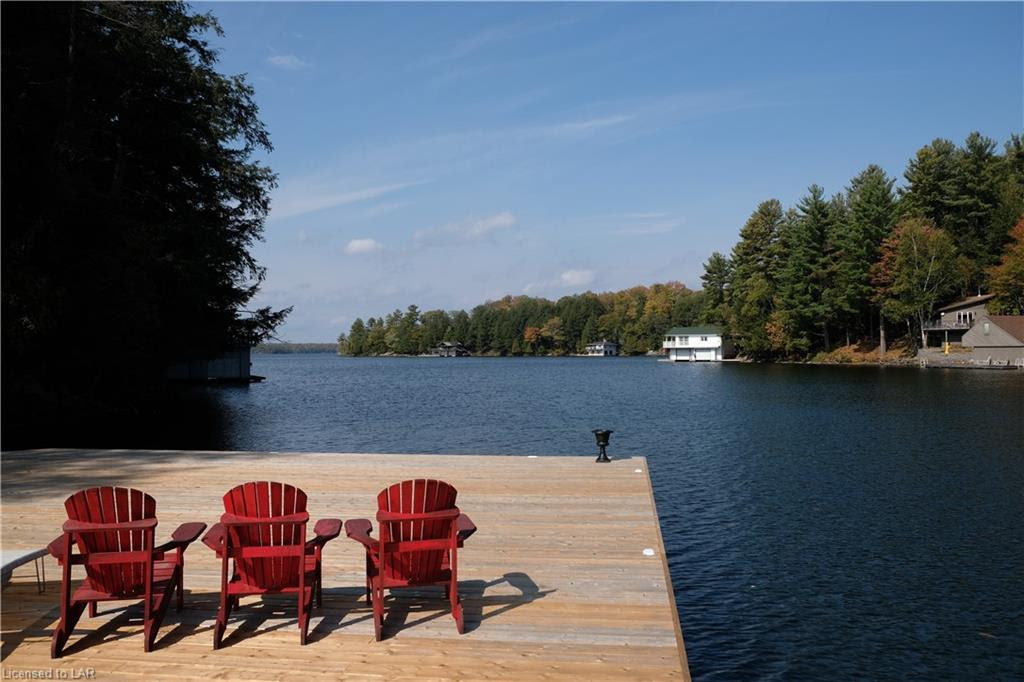 1016 Ransbury Road, Port Carling
$3,495,000 – MLS# 40062875
Lake Rosseau
Rare south lake Rosseau location near Port Carling. This newly renovated cottage sits on 225′ of pristine waterfront with a brand new boathouse ready dock and a 2 slip boathouse permit that is ready to go! Enjoy the West sunset views from the new dock all summer long and deep water for swimming. There is a second swim dock for entertaining with a sand beach and shallow sand water entry. The property is fully landscaped with beautiful pathways, lighting, and a fire pit by the lake. This 3+1 Bedroom & 4 bathroom year round cottage home is fully renovated with many upgrades. Complete with a gym, hot tub, screen porch, bar, stone fireplace, wood shed and cleared area for a future garage. Enjoy the long lake West sunset dock views and privacy. Only 8 minutes to Port Carling by boat or car. Easy road access and back-up generator makes this a perfect year round opportunity. Many upgrades. Don't miss this opportunity to be on south lake Rosseau! Boathouse permit ready for spring construction. Click here to see property details.
3177 Kashagawigamog Lake Road, Haliburton
$1,949,900 – MLS# 40061436
Kashawigamog Lake
A spectacular waterfront home only minutes to town. With west-facing sunset views from almost every room and 185′ feet of private mixed sand and granite shoreline – this property is sure to impress. Featuring over 2900 sq.ft. of one-level living, plus 1000+ sq.ft. of tiered decking accessed from multiple walkouts – there is room for the whole family. With four bedrooms and five bathrooms including a separate wing for guests, it makes this the ideal spot for entertaining. The chef's kitchen opens to the dining room with a beautiful granite fireplace and a great room with windows on all sides. Heat pump and full septic, laundry, and all the amenities you could dream of. Summer living has never been more fun – a huge U-shaped dock plus a floating Haliburton Room, lakeside gazebo, and screened-in porch on the deck. Miles of boating on the area's premium five lake chain. Oversized double garage with storage room. Located across from Haliburton Highlands Golf Club, which is loaded with the same scenic views as the home. Mature cedars line the private yard with lush lawn, stone steps, and firepit in addition to the paved driveway with extra parking and easy access year-round. This all-season home is ready for you to enjoy. Click here to see property details.
1224 McCrackens Lane, Minden
$619,000 – MLS# 40061990
Horseshoe Lake
Cozy 2 bedroom cottage on the water's edge of fabulous Horseshoe lake. This tidy cottage comes completely furnished and ready for your family's enjoyment. Step down from your private 240 square foot deck onto the dock and enjoy the sweeping views of Horseshoe lake. Minutes to the world renowned White Water Reserve. Minden is 5 minutes away for all your amenities. 30 minutes to Sir Sam's Ski-and-Ride for year-round enjoyment. 2 1/2 hrs from the GTA. Click here to see property details.
$4million and over — Click here
$2million – $4million — Click here
$1.1million – $2million — Click here
$595,000 – $1.1million — Click here
We look forward to seeing you soon!
Laura and Derek, Lucy and Ross
705.706.1177
Rosskoka.com