MarketWATCH Muskoka: March edition
March is a patchwork, geographically speaking. Depending on location in the province, one could be waiting for snowdrops and daffodils🌷 in a garden devoid of snow or looking out at mounds of it, some of it very fresh, wondering if spring will ever come?❄️ Cottage Country is very much the latter.
Yes, the days seem longer with the time change, on bright days, the sunshine actually feels warm🌞. At the time of writing, Muskoka is -10C and the next few days are filled with precipitation.🌨️ What kind will be determined by how the wind blows. It will be white or wet. Either way, snowdrops and daffodils are buried beneath several feet of hard packed white.
That hasn't stopped the early birds.🐦 Sales of recreational property are starting to trickle. If you have a portal, you will know that listings are coming to market with greater frequency. At all levels, activity is beginning. Several larger properties on the bigger lakes have sold, as have properties on midsized and smaller lakes. That said, relative to the last two years, the pace is much slower than the previous two early springs. Although numbers are small, it appears there is more balance in the market.⚖️ The next few weeks will tell the tale.
Regardless, if you're coming north just remember to bring boots.🥾 At the moment we have fresh snow.❄️ By the end of the week it could be quite slippery.💦 No daffodils are snowdrops this month for sure!
On the cottage front some very interesting blooms can be found. Here's a bouquet of our favourites… 💐
Questions? Please ask.
$19million Slumber Party…
Although not a brand new listing, I just had the thought… THIS room would be ideal for the Princess Slumber Party that lasts all of March Break!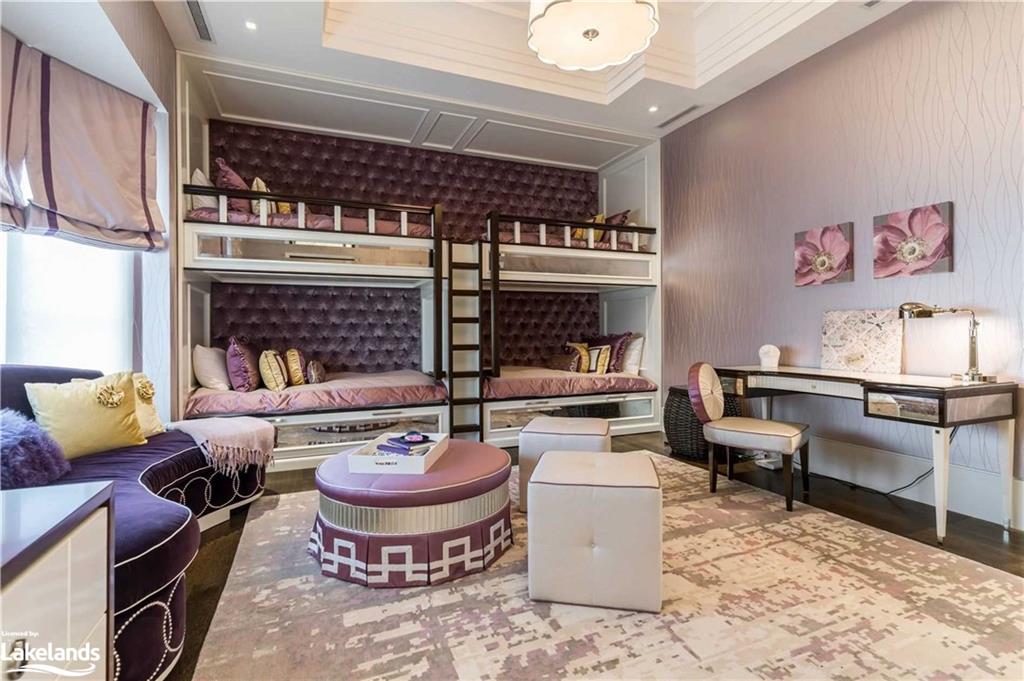 155 BURGESS Road, Rosseau
$19,978,000 | MLS# 40382750
LAKE ROSSEAU
Designed & built by world renowned Ferris Rafauli, Chateau Du Lac represents the next generation in luxury Muskoka living. Situated on storied Lake Rosseau, this spectacular gated estate has pride of place on the shores of one of Ontario's premier waterfront locales. Nestled into the natural environment and bordered by precision blasted granite & a forest of mature trees, this majestic property is truly an oasis, offering an abundance of privacy for the most discerning. Boasting the finest fixtures & finishes throughout, rare materials have been sourced from around the world – Rare marbles & natural stone, bronze beams & custom trims, ostrich & hair on hide panels, silks & custom upholstery, antiqued mirrors, lacquered wood veneers & more. Centred around a custom designed & hand assembled 40ft chandelier from Italy, every element is truly bespoke. Designed for entertaining on a grand scale while still providing comfortable space for a family. Enjoy elevated living in the New Muskoka. Subzero and wine fridges, double Wolf gas range with hood, built-in dishwashers, 4 fireplaces, built-in speakers, 3 sets of washers and dryers, outdoor kitchen, 4″ counters, 40ft chandelier and all electrical light fixtures, amethyst birds, infinity pool, basketball/tennis court, dock with 2 boat slips, garage, pool storage.
Click here for property listing details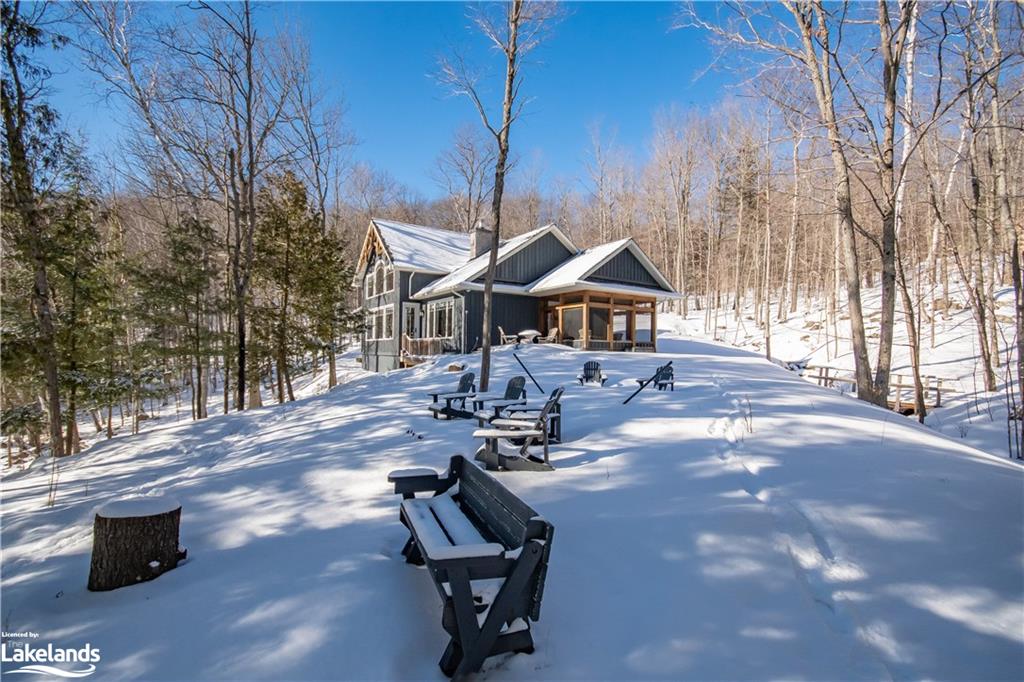 1152 PINE RIDGE Road Unit #2, Huntsville
$5,495,000 | MLS# 40386342
LAKE OF BAYS
Your final destination is a wooded 4 acres of unmistakable Muskoka on coveted Lake of Bays. The 670′ of frontage houses a golden sand bay and Canadian Shield Peninsula providing multiple exposures, and big lake views in both directions. Nature and privacy surround this stunning custom-built open concept 4 season home with vaulted ceilings for you to enjoy the warmth of the stone fireplace or to connect with the outdoors in the Muskoka Room. The 2-bedroom, 2-bathroom layout has a large loft that accommodates additional living, an office space or overflow as needed. The 2500 sqft layout was built specifically to accommodate expansion, and this unique property renders a building envelope that provides peerless opportunity. A short 20-minute drive finds the amenities and charm of Huntsville, with multiple options for golf courses, skiing, or to enjoy other resort activities. Have it all with this end-all-be-all opportunity.
Click here for property listing details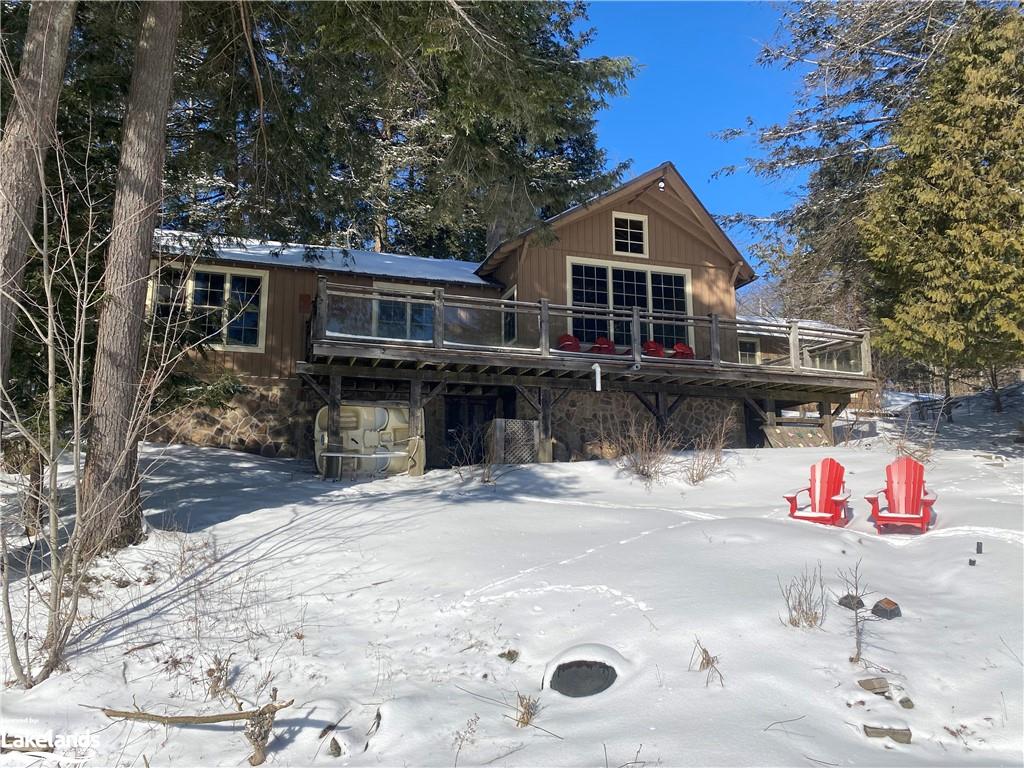 1033 ROSSCLAIR Road Unit #26, Port Carling
$2,775,000 | MLS# 40380462
LAKE MUSKOKA
Nestled in an enclave of exquisite waterfront homes, this gem is in move in condition! Originally named "The Secret", this is a rare find. Only minutes to Port Carling and all of its amenities including shopping, dining and golf. Outstanding boating and a spacious dock for hours of family fun at the shore. Spacious three bedroom, two bath winterized cottage with year round access and full back up generator. Existing single car garage could easily be converted to a Guest Bunkie. Move in and start enjoying all that Muskoka has to offer.
Click here for property listing details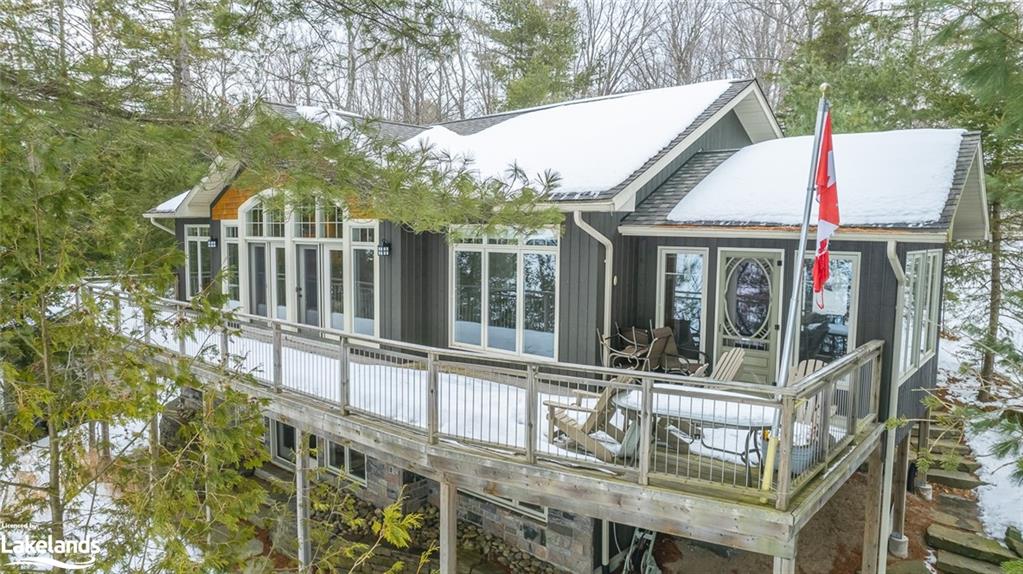 1010 ECHO Lane, Minden
$1,995,000 | MLS# 40383539
SOYERS LAKE
Escape to your very own piece of paradise on sought-after Soyers Lake in Haliburton County! Offering desirable western exposure this gorgeous, 5-bedroom, 3-bathroom home is the perfect escape for year-round fun and relaxation with family and friends. You'll love the spacious open floor plan, complete with pine vaulted ceilings and sunshine-filled living areas that are perfect for entertaining. High-end furnishings throughout, heated flooring in multiple bathrooms, and the quality of craftsmanship add to the feel of luxury at this property. The large deck provides the ultimate spot for sipping your morning coffee or enjoying a glass of wine while taking in the unbeatable sunset. The finished basement creates ample space for guests while still having a sense of privacy. The cottage also features a beautiful sunroom, perfect for curling up with a good book on a lazy afternoon or playing a family board game in the evening. Outside, no expense has been spared. From beautifully landscaped gardens to all-natural granite stairs, the attention to detail is unrivaled. The waterfront is just steps away, allowing for low-maintenance upkeep so you can spend your days swimming, boating, and fishing. Located just a short drive from the town of Haliburton, you'll have access to restaurants, shops, and entertainment options. But with everything you need right on the property, you may never want to leave! Come and experience the ultimate cottage lifestyle on coveted Soyers Lake – it's waiting for you!
Click here for property listing details
1019 & 1025 & 1027 OSLER Lane, Minden Hills
$999,000 | MLS# 40387336
GULL LAKE
Incredible opportunity to own on one of Haliburton Countys finest lakes. 3 separately deeded parcels are offered together for the first time in more that 50 years on crystal clear Gull lake. Almost 2 acres and 346 feet of southwest facing frontage. There are 2 existing cottages and an amazing waterfront Boat house to enjoy while you plan your Executive Home/Cottage. Development possibilities are endless. Just 2 hours from the GTA, and 10 minutes to the town of Minden and all amenities. Endless recreational activities in the beautiful Haliburton Highlands. Call regarding further information on this one of a kind opportunity on Gull lake.
Click here for property listing details
Price Decrease
– Click here for listings
Pending
– Click here for listings
$595,000-$1,099,000
– Click here for listings
$1,100,000-$1,999,000
– Click here for listings
$2,000,000-$4,999,000
– Click here for listings
$5,000,000+
– Click here for listings
Islands
– Click here for listings
Mainland Riverfront
– Click here for listings
Vacant Waterfront Land
– Click here for listings
Ready to take a closer look? Drop me a line at 705.706.1177 or Rosskoka@gmail.com
Ross McLean
Rosskoka.com
RE/MAX Hallmark Realty Inc.
Bracebridge