MarketWATCH Muskoka: 3 August 2023
Hump Day. This Civic Holiday weekend is to high summer season as Wednesday is to the week. The fulcrum point. Our days are noticeably shorter, nights are a bit cooler but the lake is oh, so warm. It's good sleeping weather too. We're moving into the dog days of Sirius in Canis Major (and who knows how to sleep better than dogs?) Mentioned last week, the Perseus Shower is ramping up and meteors trace across the night sky. Although with the brightness of the super moon, they are hard to see. By the peak of the shower, in a week's time, the moon will have waned and darker skies prevailing will give us the meteor shower in all its glory. Away from city lights the night sky of cottage country is vast and beautiful. If you've never been to the Torrance Barrens on a clear night, they are worth the trip. It's certainly safer than stopping in the middle of the lake with lights out!
Talking about lights out, on each of the last 5 evenings I've seen deer by the side of the roadway. Where there's one, there's likely to be another. Keep your eyes vigilant. These animals can appear from nowhere. Earlier this year the whole front end of my car's body work needed to be replaced as one decided to leap the roadway and landed immediately in front of me. No time to brake or swerve. Definitely lights out for the deer, sadly.
In real estate the week has been one of interest as listings continue to come to market. The numbers we talked about last week remain essentially the same. What's different is the cottages. Your opportunity to see them is below. Take a look and let me know if you have questions!
Enjoy the long weekend wherever you may be!
1380 PENINSULA Road, Port Sandfield
$7,395,000 | MLS# 40459405
Lake Rosseau
Welcome to this stunning property located in an unbeatable location – Lake Rosseau. Situated on 150 feet of pristine crystal clear waters, this single slip boathouse with living quarters offers the perfect retreat for those seeking serenity and luxury. With 6 bedrooms and 6 bathrooms spread over 5,000+ square feet, there's ample space for everyone. The property boasts a massive dock space, ideal for entertaining and enjoying the beauty of the lake. Inside, you'll find a spacious Muskoka room, perfect for relaxing and taking in the breathtaking views. The lower level features a large games room and lounge area, providing plenty of options for quiet cottage days. Conveniently located, you'll find shopping markets just minutes away, accessible by both boat and car. Don't miss out on this exceptional opportunity to own your own piece of paradise on Lake Rosseau. Click here for property listing details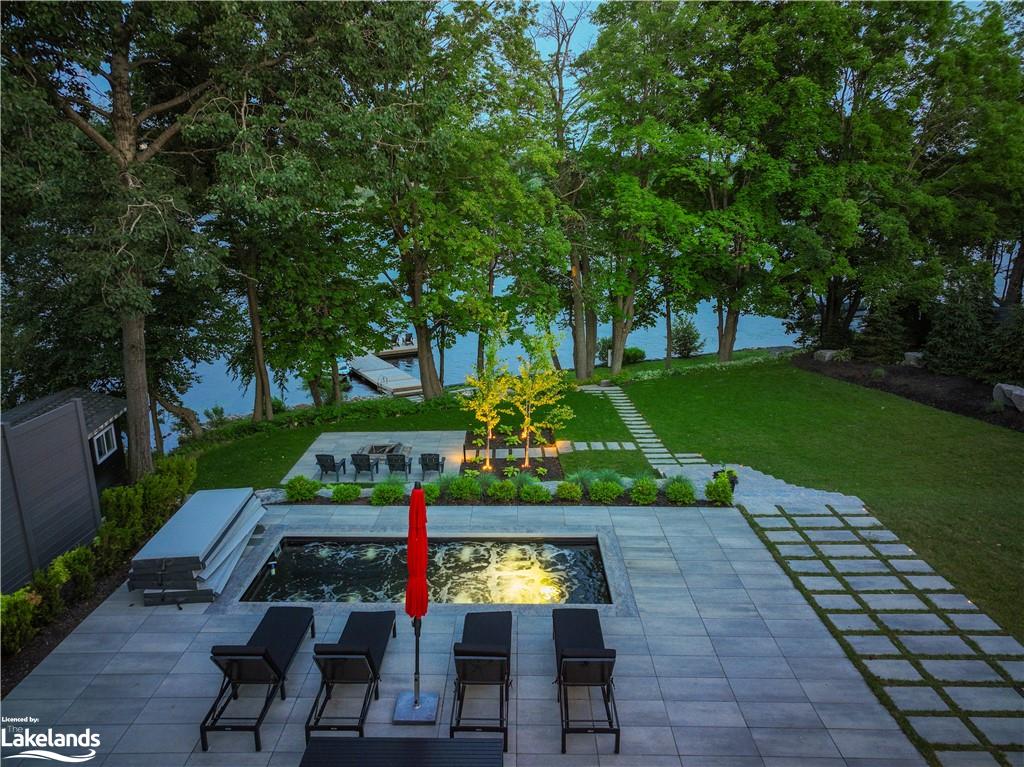 183 HUNTERS BAY Drive, Huntsville
$2,999,999 | MLS# 40459602
Hunters Bay
You can have it all! An in-town, luxury lake house, 5 bedroom, 4 bathroom, with a sophisticated cottage feel. Totally renovated sparing no expense. A top Toronto designer worked his magic on the interior and the outside property was recently landscaped by Sandhill Nursery giving the property a manicured look of ultimate luxury and style. Privacy fencing, large patios off the house provide a variety of sitting areas with lake views, fire pit, a new spa pool, landscape lighting, retaining walls and stone stairway leading to the waterfront. There is a gradual sandy beach area and deep water boating from the newly installed dock. Hunters Bay is ideally located in the middle of a waterway system of four lakes and 40 miles of boating. A quick boat trip into the center of town to shop or restaurants. No more long cottage drives into town. A brand-new furnace installed March 2023. In the kitchen you will find a large island, double refrigerator, Thermador gas stove/oven, granite countertops and herringbone stone backsplash. The sink window overlooks the waterfront and the activity outside. Three sitting areas, full of sunlight and large windows, take in the landscape and the bay. These provide privacy and options for entertaining or quiet space. A large open gas fireplace can be enjoyed from the entrance and throughout the whole house. Guest bedroom is on the main level and 3 bedrooms plus office/den is on the second level. All the bedrooms are a generous size with large windows looking out onto the view. The Primary Suite has a walk in closet with makeup vanity and free standing spa tub plus a large shower and double sinks. The laundry room is large and located off the utility entrance. This home is truly one of a kind. A retro vibe with a sense of history and architecture that is no longer available in modern builds. Click here for property listing details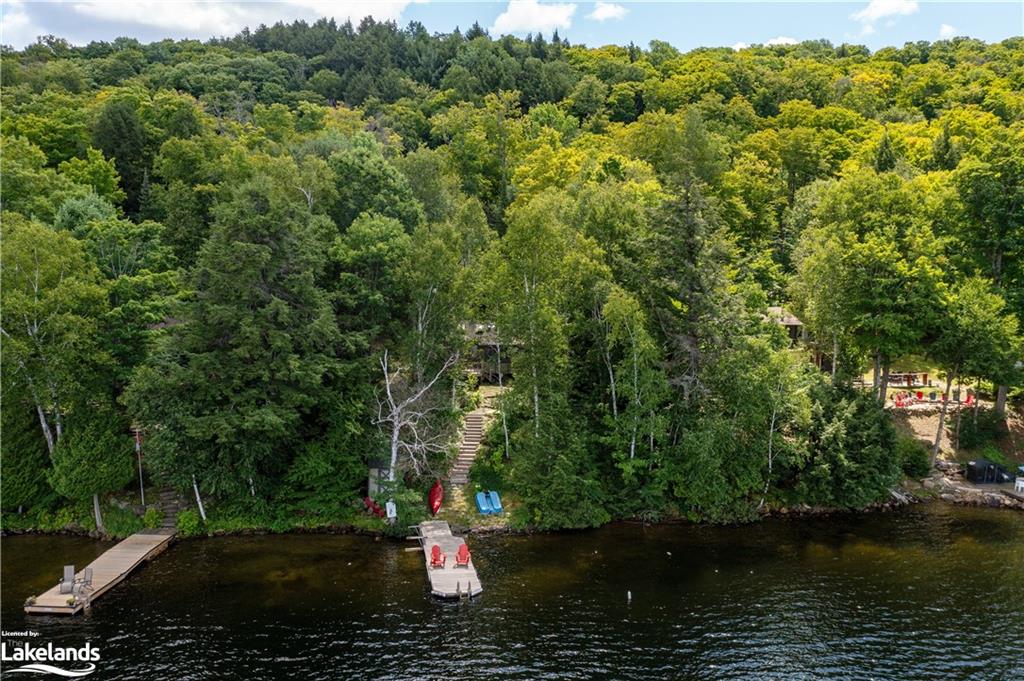 1113 NARROWS Road, Dorset
41,149,900 | MLS# 40459383
Lake of Bays
Nestled on the pristine shores of Lake of Bays in Muskoka, less than 2.5 hours from the 401, this 3 bedroom, 1 bathroom authentic cottage with a 4th sleeping space in the guest cabin basks in sunshine and captures vibrant sunsets! The best of lake life is here! It's time to escape the hustle and bustle of city life for a summer oasis on the water. This entry price point on Lake of Bays invites you to enjoy life at the cottage on one of Muskoka's most desirable lakes, or plan the future by securing this lot now and building later. You will also love to know that a new septic system (sized for 4 bedrooms) was installed in 2020. Inside the cottage all the principal spaces and primary suite overlook the water views. Weather master systems throughout the cottage and cabin welcome all the sights, sounds and senses that come with a refreshing and recharging weekend or summer stay on the lake. The vaulted ceilings, warmth of the woodstove, details of the solid wood doors and original handles call back memories of what cottage is really all about. The open concept plan leading out the screened in room and wrap around deck offer plenty of spaces to relax, connect, unwind and entertain. At the dock you will find a lakeside fire pit where adventures will be recounted over s'mores and drinks. The shallow entry into the lake and diving depth at the end of the dock offer the best of all worlds. Take the boat into Dorset – just a few minutes away – for an afternoon ice cream, dinner, or to restock the cottage and bevy fridge. As the night winds down, guests may need to coin toss for who takes the cabin. With 3 bedrooms in the cottage, and the sleeping cabin, there is room for everyone. Extra details! 100 amp breaker panel, lake line with full UV purification system ensuring potable water, parking can accommodate 2 SUV style vehicles or 4 smaller ones, 3 season cottage, but year round access. Soak up the sun, share laughter, & star gaze! This Muskoka cottage is the place to be. Click here for property listing details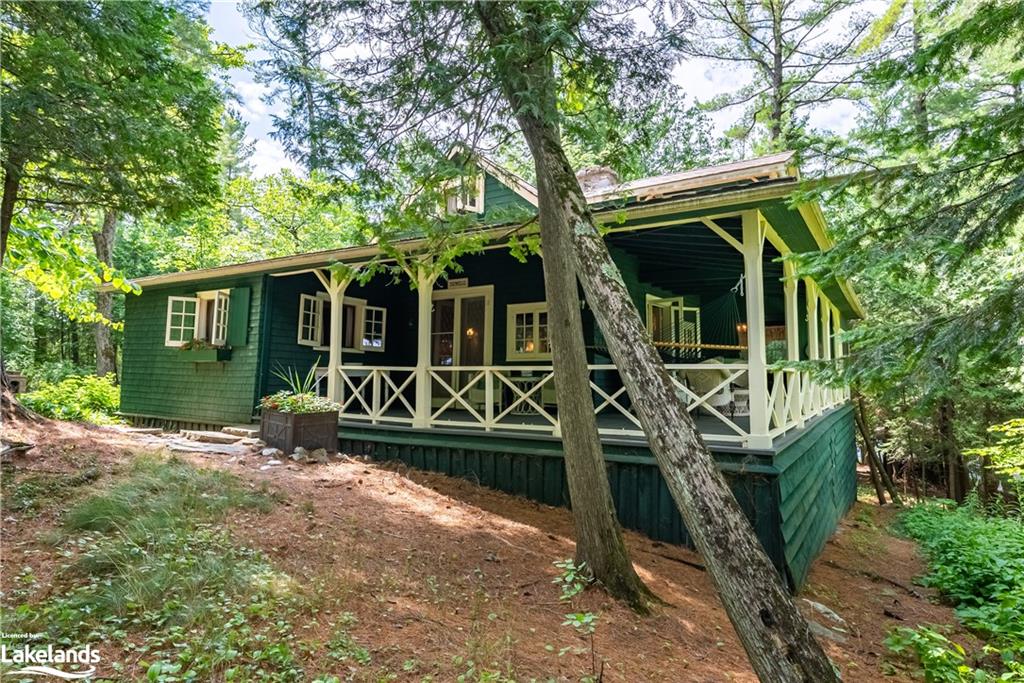 2 HILLS Island, Lake Of Bays
$950,000 | MLS# 40458885
Peninsula Lake
Welcome to 2 Hills Island! Nestled in a sheltered bay with 675 ft of breathtaking multi exposure on the coveted south end of Hills Island, Peninsula Lake, Muskoka. Walk back in time to an era of steamships & elegantly dressed Muskoka cottagers. The 2 slip wet boathouse + 1 exterior slip allows 3 boats to moor. On the dock you can enjoy a coffee & watch the sun as it rises in the morning. Then move over to the beach area & enjoy a swim or a paddle on the quiet bay & at the end of the day take in glorious sunsets with a view of the ski hills at Hidden Valley on the wraparound & recently refurbished veranda. Known as Dunelg, the main cottage features a wraparound veranda with westerly views. Inside, the focal point of the living room is a lovely stone fireplace that warms the cottage on cool evenings. The dining room has lake views on both sides & is just off the kitchen. Upstairs is one of two principal bedrooms with a lovely sun porch overlooking the west side of the peninsula. There is also an office for those who must work while at the cottage. On the main level there are two additional bedrooms, a guest and a primary plus a 3 piece bath. The charming guest cabin is perfect for visiting children or adults young at heart. With its own porch & a bunk bed, the guest cabin sits close to the south shore & natural sandy beach area. With south, east & west exposures plus deep water off the westerly side of the island & a shallow sandy beach there is something for everyone at 2 Hills Island. Mooring and parking less than 5 minutes away. For those who are seeking a private lot to build their dream cottage, or history buffs who want to maintain the existing structures and enjoy the history in their bones. Click here for property listing details
Price Reductions – Click here
Pending – Click here
$595,000 – $1,099,000 – Click here
$1,100,000 – $1,999,000 – Click here
$2,000,000 – $4,999,000 – Click here
$5,000,000+ – Click here
Islands – Click here
Mainland Riverfront – Click here
Vacant Waterfront – No New Properties Listed This week
Vacant Waterfront – All Active (62) – Click here
Ready to take a closer look? Drop me a line at 705.706.1177 or rosskoka@gmail.com
Ross
Rosskoka.com
RE/MAX Hallmark Realty Inc.
Bracebridge