Photo Credit: Norm Drolet, "Moose on the Nipissing River"
The morning mists have begun in spots, rendering soft the light of dawn on our pre-Cambrian frame. This time of year, with autumn quietly leaving hints, changing leaf tips pulling golden hues to the fore, is rich in abundance. John Keats wrote:
Season of mists and mellow fruitfulness,
Close bosom-friend of the maturing sun;
Conspiring with him how to load and bless
With fruit the vines that round the thatch-eves run;
To bend with apples the moss'd cottage-trees,
And fill all fruit with ripeness to the core;
Go to one of the farmers' markets found in communities throughout cottage country, or check out your neighbour's tomato crop or the ripeness of a peach, fresh-picked, leaving its juices sweet upon your chin.
This is a rich time of year, for some, sad too. Tough decisions are made as a few families decide to leave the lake for the last time. Every fall we see those few cottages come to market for the first time in decades. Special places that hold the memories of generations are about to change hands. Over the next few weeks the number of properties coming to market usually increases as those hard decisions are acted upon. Likewise, for those properties not selling, price adjustments are made as some people learn the marketplace did not fulfil their hopes or expectations.
If it's the season of fruit with ripeness to the core, it's also the season of harvest. There will be some exceptional properties to consider, if this week's crop is any indication.

1070 HAMILLS POINT Rd MacTier
$9,295,000 | MLS® #: 40312746
Spectacular new build on Roberts Bay, Lake Joseph. The lot is 200 feet with almost 3.6 acres and faces North. Attention to detail in every room of this contemporary gem. Oriented for the view , every room overlooks the lake. The kitchen is set up for the best of chefs, with high end appliances and a huge island to sit. The warm clean design carries throughout the building and provides a comfortable and a seamless flow. The property is professionally landscaped making it easy to get to your three 26 foot long slips in the boathouse. The boathouse features a flat upper seating level providing ample seating and spectacular views. There is both deep and shallow water in this quiet bay. Experience peace and tranquility by the waters edge in your very own gazebo. A three car garage completes this offering. One of the shortest drives to Muskoka. Click here for property listing details

1080 GLEN GORDON Road Unit #25, Milford Bay
$2,895,000 | MLS®#: 40310116
Nestled amongst the towering pines and overlooking beautiful Leonard Lake, this beautiful & private, large family cottage property awaits you. The spectacular four-season Muskoka cottage, with gorgeous engineered hardwood flooring and expansive windows to enjoy the view, has been fully renovated from top to bottom, including new appliances. Showcasing the casual elegance of lakeside living, this property is a turnkey offering – fully furnished and equipped for your immediate enjoyment. This exquisite cottage features 6 bedrooms, 6 bathrooms, a gourmet kitchen with induction range, cathedral ceilings, two wood-burning fireplaces, forced-air + in-floor electric heating, oversized windows, large outside deck and patio to enjoy the view, a firepit area for fireside chats & roasting marshmallows, and much more. A gently sloped walkway leads you down to the boat dock and to the large child-friendly sand beach. With over 350 feet of bylaw water frontage, and approximately 375 ft. of shoreline, this property qualifies for a boathouse under current Township bylaws. This property was made for entertaining a large family + friends and includes several sitting areas to enjoy the privacy of the stunning Muskoka landscape and view. There is ample room to add a full-sized bunkie with washroom and kitchenette, and a large garage/workshop for all your cottage toys if you wish. A 15-minute drive to Port Carling or 10 minutes to Bracebridge, this location doesn't get any better. This spectacular property could be yours to create beautiful family memories for generations to come. Click here for property listing details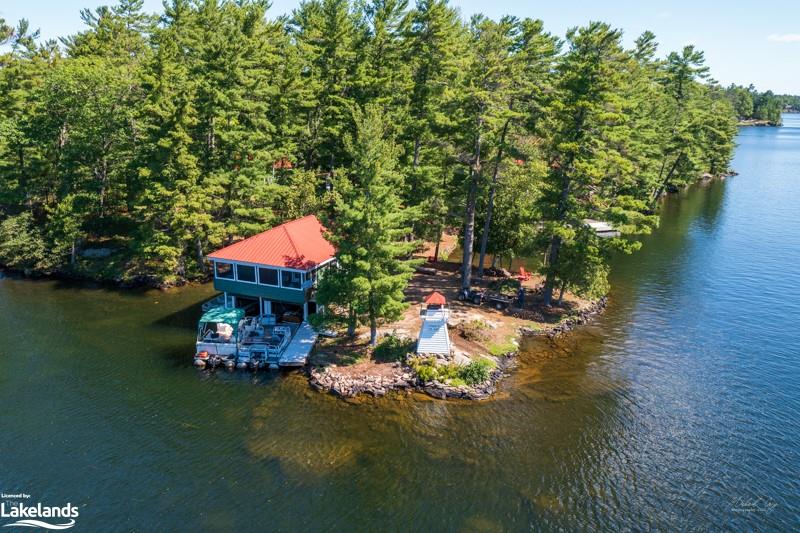 2 ISLAND 390 | CHADS Island, Georgian Bay Twp
$1,999,000 | MLS®#: 40305683
SEVERN RIVER SHORES BOAT ACCESS ONLY – Welcome to Over 100 years of History at Chad's Island w/1560 FT. Frontage. 4 Bedroom Cottage and 2 Baths circa 1993. The 2 slip, Wet-slip Boathouse circa 1921, Placed on Steel Pining in 1989, Inside has Living Quarters Above, Which is Rare to see Today. In The Living Quarters above The Boathouse, 2 Bedrooms and 3 pc bath and Full Kitchen and Dining Room and Muskoka Rm. The Boathouse Even has a UV Light. Also On The Island there is a Bunkie for Sleeping and a Large Garage on The Property. ***THE DETAILS*** This Property is Turnkey for Most of The Furnishings. The Possibilities for Expansion into a Spectacular Family Compound are Endless at This Very Private Water Access Hideaway. Mainland Access is Only a Few Minutes Away. Enjoy Panoramic View, Beautiful Sunrises and Sunsets, More Land behind The Island on The Northside, and The Tranquility This Move-In Ready Opportunity Comes Fully Furnished & Outfitted for Your Immediate Use & Enjoyment. The Cottage is Beautifully Updated 4 bed w/Loft Chalet Style Cottage w/a Muskoka Rm on The South Side, The Cottage and Boathouse is on a Level Grassy Lot. The Severn River, Offers Many Kms of Boating, Fishing, Swimming and General Enjoyment. The Big Chute and Surrounding Area is Home to a Large Population Wildlife. OFSC Snowmobile Trails are Close By. 2 Locks from Georgian Bay and Many Amenities in The Area Between Lock 43 & 44 & 45-You can Boat over The Big Chute Marine Railway To Gloucester Pool and Beyond to Georgian Bay at Port Severn. This is Your Chance to Experience The True Meaning of 'Cottaging.' Enjoy The Boat Ride up to Severn Falls or Big Chute For Food & Ice Cream. Just 1.5 hours From The GTA. ***MORE INFO*** The Seller's Grandfather First Came to The Severn River in 1908 when He was 16 on a Canoe Trip w/His Older Brother Robert Charles (nickname Chad), Age 18. Both of Them Loved The Present -Day Site of Chad's Island That They Bought. Check out The History in Videos. Click here for property listing details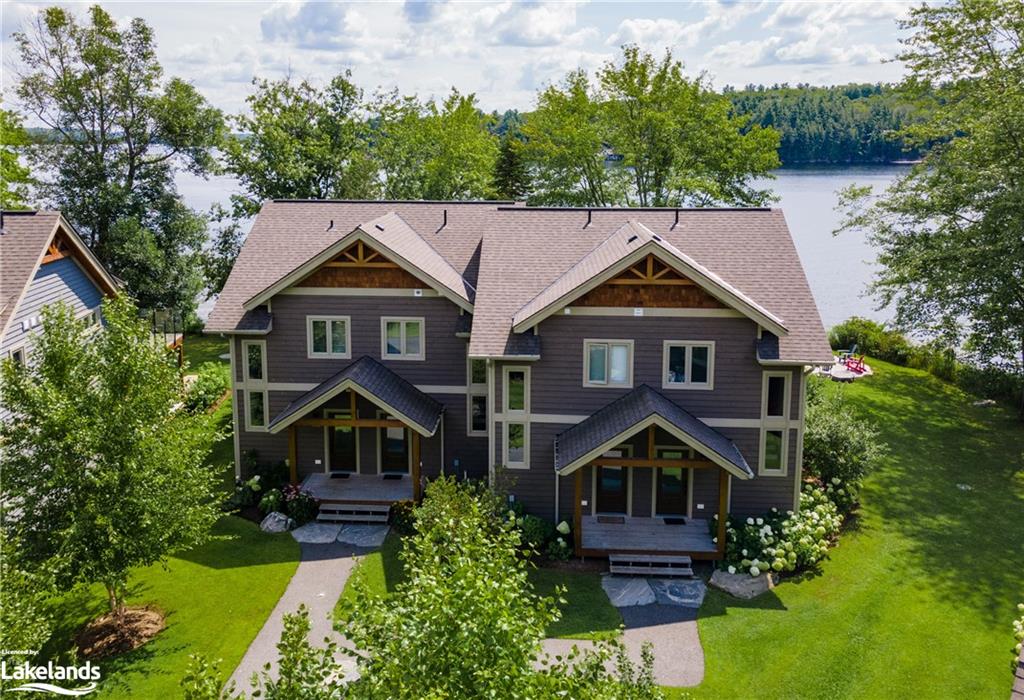 1841 MUSKOKA ROAD 118 W Unit #2B, Bracebridge
$759,900 | MLS®#: 40311286
Villas of Muskoka Resort is an exclusive cottage community located in the heart of Muskoka on beautiful Lake Muskoka. Enjoy these stunning cottage's while having access to amenities right at your door step. This two bedroom two bathroom unit is perfect for a small family or someone looking for a great investment property. Main floor is open concept, where you can enjoy cooking your meals and hanging out with friends or family while looking out at the stunning lake views. Upstairs you will find two bedrooms, laundry room, and a large bathroom. Units come turn-key, so get in now and start enjoying everything Muskoka has to offer. Click here for property listing details
Price Reductions – Click here
$595,000 – $1,099,000 – Click here
$1,100,000 – $1,999,000 – Click here
$2,000,000 – $4,999,000 – Click here
$5,000,000+ – Click here
Islands – Click here
Mainland Riverfront – Click here
Vacant Lakefront Land – Click here
Pending – Click here
Ready to take a closer look? Drop us a line at 705.706.1177 or info@rosskoka.com
Lucy & Ross
Rosskoka.com
RE/MAX Hallmark Realty Inc.
Bracebridge