Spring. We think of daffodils, crocuses and robins. So far in Muskoka we have robins. This past week saw up to 10cm of snow and, with -10C lows at night, more ice. Bracebridge Falls is a trickle and the river is low pending the onslaught of melt we'll see in the next 3 weeks or so.
We were called to list vacant land on a Lake Muskoka island. Over 300′ of frontage, sunset views and close to mainland. The picture above was taken while we were walking across the lake to the property. It was a beautiful day!
Despite the snow, we have been busy listing, selling and showing. Each of us has had transactions. We listed a beautiful year round cottage last weekend on the outskirts of Port Carling and sold it in 2 days. Access can be tough. We showed a property on Saturday and it was hard to stay on the crust. Our buyer kept crashing through up to his knees. It was tiring for him. A trooper though!
A beautiful legacy property came to market on Breezy Point over 1100′ of shore for $4.8 million. It has sold firm at almost $4.5 million in a matter of 3 or 4 days!
The message? People are intent. They want a property for the season. If you see something you like, don't put off walking it. If you do, it may not be there. Sales are happening at all price levels.
Here's what came to market this week. Let us know if there's something you like and want to see. We're ready!
Lot 37 Alpine Ridge Road, Haliburton
$2,995,000 – MLS#184275
Lake Percy
One of a kind opportunity for a custom build on an expedited timeline, in an area of multi-million dollar newly built cottages. Large, private wooded lot with sand beach and unobstructed views of a shoreline that can never be developed. Builder has an extensive portfolio of high-end custom craftsmanship and many testimonials from happy clients. They've learned through building for elite clientele many premium features to include for a luxurious cottage experience, and ALL are included in this package (some you didn't even know existed). To further customize this building to your taste, or to modify features to reduce the total purchase price, purchase before April 20th. See Feature Sheets for a very detailed building explanation or contact our team for more information on the design, building, customization options, builder reputation, testimonials, 1200 acres of shared common element land and unique neighbourhood details. Click here for property listing details.
1026 3300 Road, Gravenhurst
$2,249,000 – MLS# 183537
Lake Muskoka
Lake Muskoka gem, not to be missed. Impeccably maintained, custom built cottage/home conveniently located minutes from Gravenhurst. Gorgeous master bedroom and two spacious bedrooms on the second floor, bedroom suite on the main floor and additional sleeping space in the basement. Every inch of this 2,147 sqft cottage is maximized. Gorgeous stone fireplace centered in the living room. Cozy four season Muskoka room off the kitchen/dining room to take in the views. The waterfront boasts a 1 slip boathouse with sundeck on top. Click here for property listing details.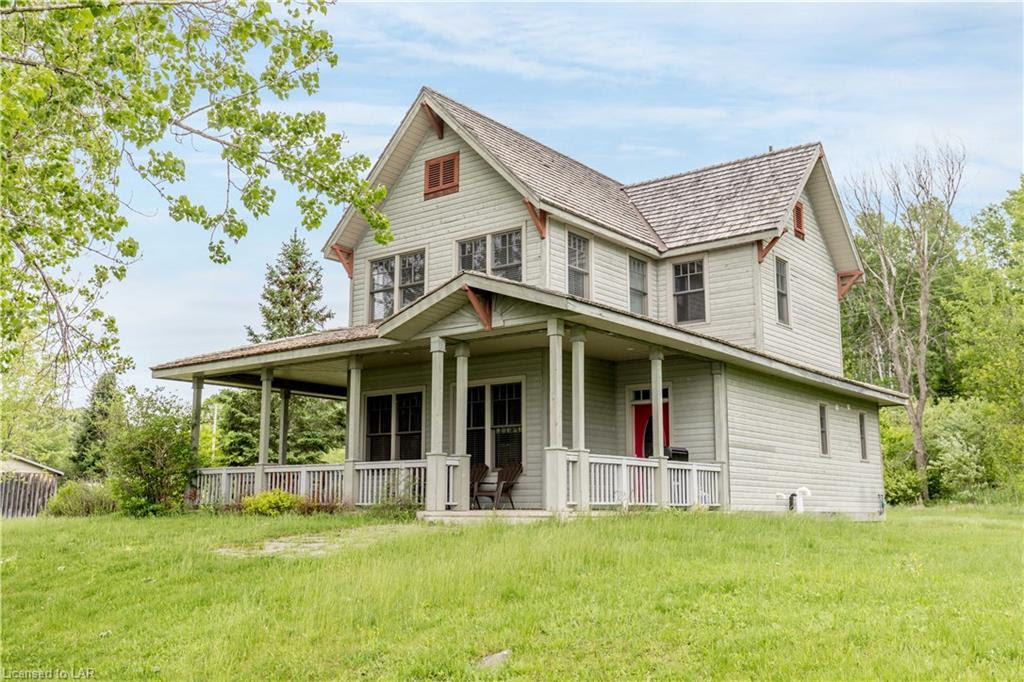 25149 Highway 35, Dwight, ON
$1,299,000 – MLS# 182013
Lake of Bays
Imagine the possibilities! This property offers 300 ft of frontage on Lake of Bays, and a beautiful 2 storey, 4 bdrm, 3 bath home. The main house offers a kitchen, dining area, living room with fireplace, and a main floor master w/ ensuite. Upstairs you will find 3 additional bedrooms and 4 pc bath. Guests can enjoy their morning coffee from the front porch overlooking the lake, or from the end of the dock with covered gazebo. The separate bunkhouse is just the beginning of the potential for generating income or creating the perfect compound for a large family. An approved site plan exists for 6 additional cottages, to allow for a small cottage resort. Or you may chose to only add one more residence and use the bunkhouse as shared indoor space for large family gatherings. If you've dreamed of running a small cottage resort or sharing a large waterfront parcel on one of Muskoka's most sought after lakes, this property is the investment you've been waiting for. Rental income present. Click here for property listing details.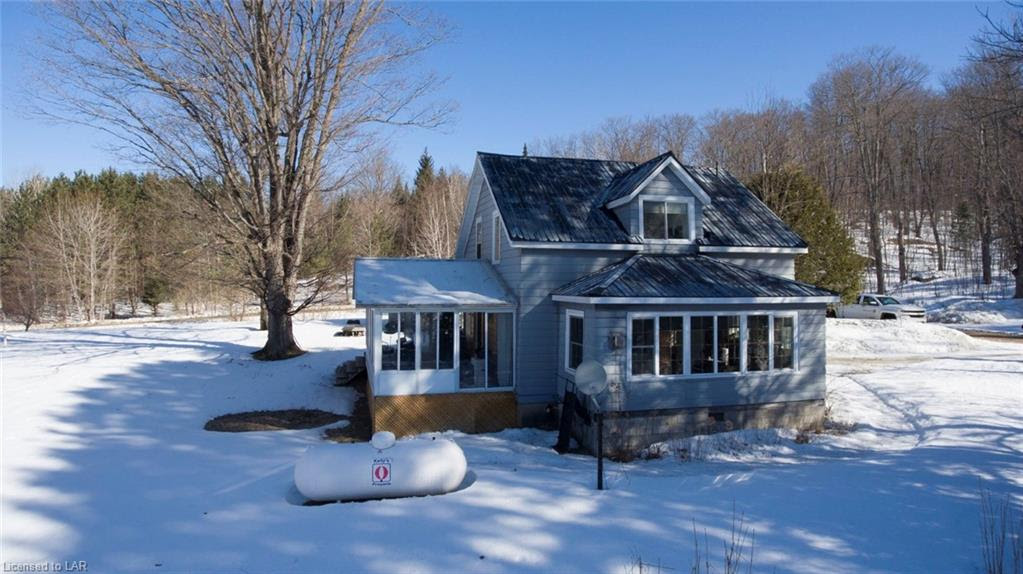 1078 Stills Road, Eagle Lake, ON
$339,000 – MLS# 183762
Stills Lake
Country charm on a large, corner lot. 3-bedroom, 2-bathroom, open concept with lots of windows. Large kitchen walks out to a large, 3 season sunroom. Propane furnace, dug well, gas fireplace and a detached garage. Large den with a separate entrance that could be a fourth bedroom or a home business. Best part about this property is the 1/10th interest in the 100-acre parcel on Stills Lake. Great swimming, fishing etc. Perfect place to relax, have a BBQ or camp. Walking distance to Eagle Lake and ten minutes to Haliburton. Click here for property listing details.