Season of mellow fruitfulness. In these parts a few tomatoes still cling to the vine, pumpkins mound yellow in the garden and, as you saw last week, cranberries glow red in the bog. Fall colours are at their peak and fall fruits are lush and plump.
Talking about plump, you should see turkeys in Muskoka! They're everywhere! The other day driving from Port Carling I actually ducked as a couple tried to stay airborne over my car. They were flying from one side of the road to the other -and not full of grace either. More like balls with wings than birds, they defied principles of aerodynamics and truth.
Surprisingly on the waterfront real estate front, the same number of properties came to market as sold (30) in the area we monitor daily. Perfect balance. It's still busy and as long as the weather holds, is likely to remain so. Take a look!
We have much to be thankful for. A beautiful country, health, family, friends. Whether you mark this Thanksgiving in a big way or quietly, partying or walking in the woods, enjoy what Canada has to offer. We are so fortunate! From our families to yours, Happy Thanksgiving! And keep an eye out for flying turkeys!!
5307 KAWAGAMA LAKE ROAD, DORSET
$2,995,000 – MLS# 226329
Kawagama Lake
Surround yourself in nature's true beauty while enjoying the luxuries of living in this custom built Dovetail Log Home/Cottage. Boasting over 4 acres of land, 325 feet of shoreline (295 straight line), Western exposure & nothing short of perfection for privacy you have found your little slice of heaven. Inside you are welcomed by a feeling of warmth and spaciousness. Exemplifying the finest in craftsmanship w/ antique hemlock floors, exposed beams, a grand floor to ceiling stone fireplace, wall of windows, custom cherry wood kitchen w/ soapstone counters & a stunning master suite w/ spa like ensuite. Over 5000 sq ft of living space to explore featuring 4 bedrooms plus 2 extra dens, 3.5 baths including a steam shower and triple detached garage with finished living space. The lower level is ideal for entertaining w/full wet bar, games area and media room. Kawagma lake is one of the cleanest lakes in Ontario w/ crown land also still present. Click here for property listing details.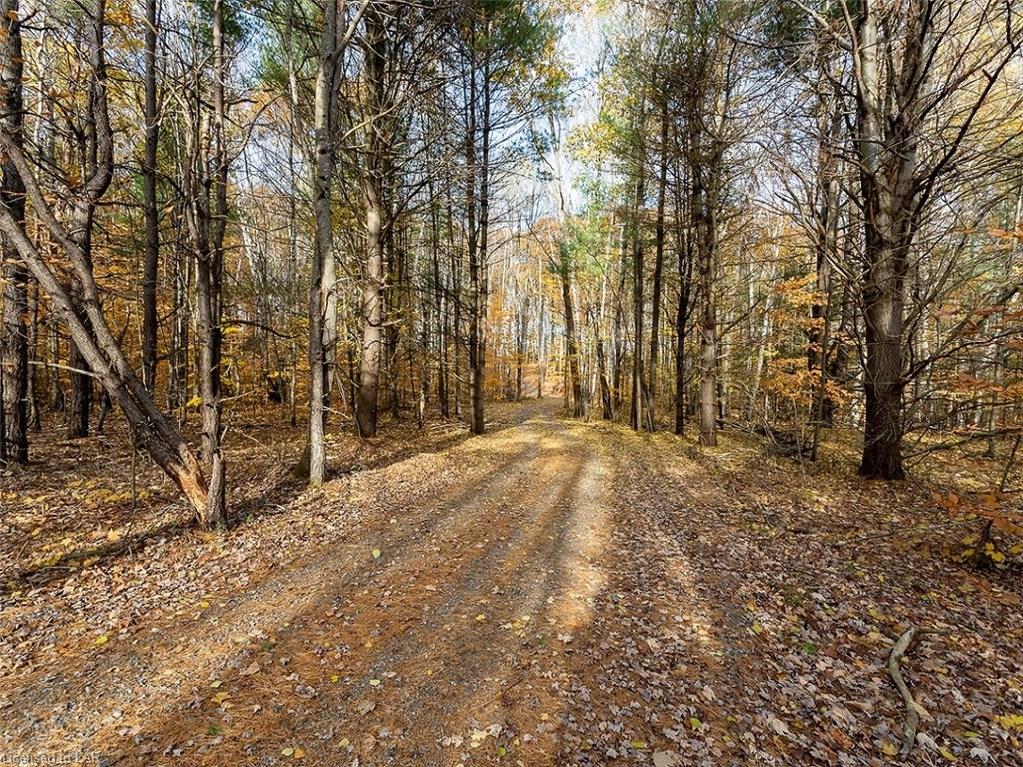 1316 EAST BAY ROAD, TORRANCE
$1,795,000 – MLS# 226300
Lake Muskoka
A rare opportunity to own a newly created lot that offers the very best of Muskoka! With 300 feet of pristine shoreline and 4.3 gently rolling acres with magnificent hemlocks and granite outcroppings just waiting for you to create your cottage vision. The natural contours of the property offer privacy and a near-level building site, the shoreline has both shallow and deep water and there is ample space for a two-storey boathouse. Relax and enjoy the beautiful vistas of East Bay for years to come with this exclusive property in the heart of Muskoka. Click here for property listing details.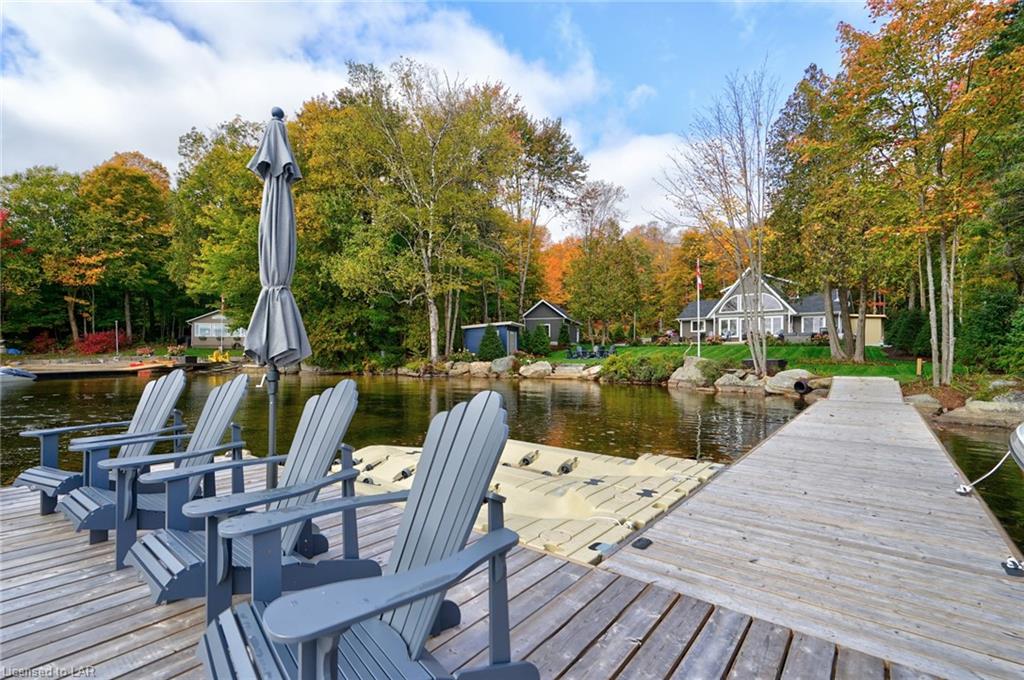 1102 FOX POINT ROAD, BRACEBRIDGE
$1,149,000- MLS# 226405
Wood Lake
Nothing to do except enjoy this newly renovated four season cottage. Built 7 yrs. ago and then completely renovated in the last 2 yrs, this cottage/home is on trend, in style, and ready to be shown off. From heated flagstone entrance and custom stone fireplace, to new dock, new Bunkie, detached garage, and generator back up system, the cottage has everything you expect to see at a new vacation getaway, including the absence of a "honey to do" list. The lot itself is a very slow grade down to the water. Easy to transit for parents and children alike. Around the property the space has been maximized well. Kids have a play area in the back, detached garage around side, and waterside Bunkie out front. The only stairs outside the property are a couple off the deck and some granite stairs leading into the hard pack sandy shoreline. Come see for yourself what a cottage with no to do list looks like…you'll want to come back. Click here for property listing details.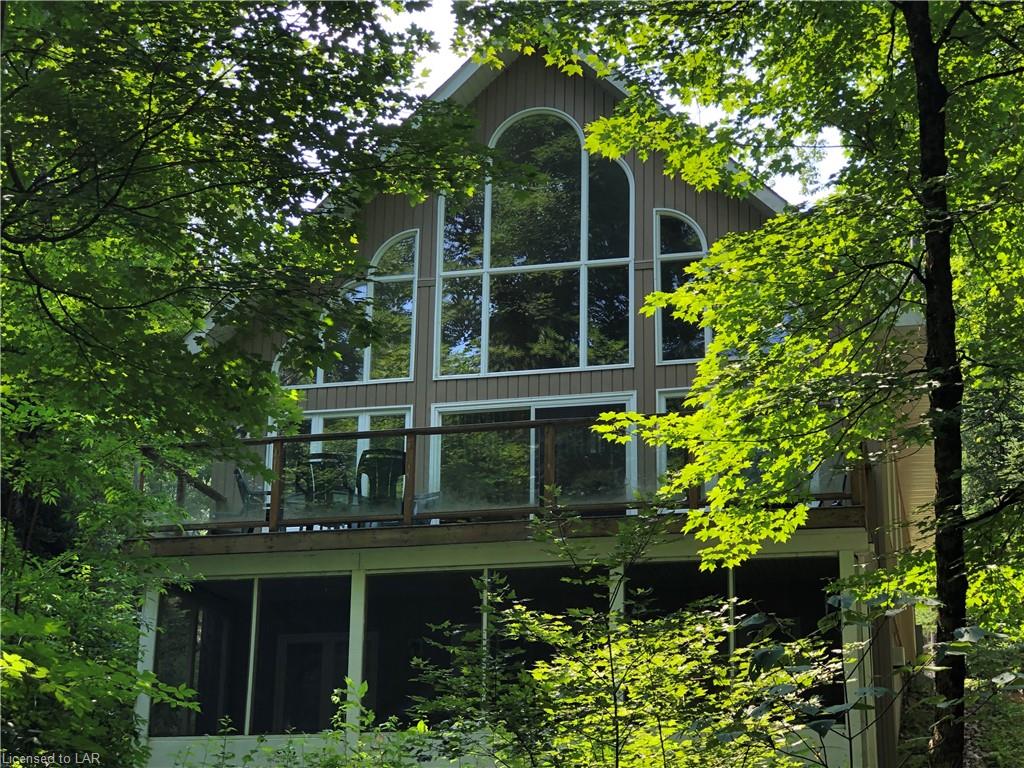 1134 RIVER HAVEN ROAD, BRACEBRIDGE
$549,000 – MLS# 225023
Muskoka River
Life on the Muskoka River provides endless natural beauty as it ebbs and flows through the changing seasons. This lovely 3-bedroom 3-level year round home is a pleasure to see! The design is open concept with an incredible wall of windows and a bedroom and bathroom on every level. There is plenty of room to house friends and family with a large recreation space and expansive deck overlooking the river. Located 8 km from highway 11 in a litte enclave of homes and cottages along a fully serviced road. The property topography slopes towards the water in a magical park-like setting with a meandering path and bridge over a small natural creek. This is quick access town, hospital, schools and amenities! An oversized heated and insulated single garage is a bonus for the hobbyist or craftsman. Click here for property listing details.
Laura, Lucy, & Ross
(705) 706-1177
Rosskoka.com
ps. Don't forget to check out these other dream properties
1048 MILFORD BAY RD, MUSKOKA LAKES TWP
LAKE MUSKOKA
$1,899,000 – MLS# 199405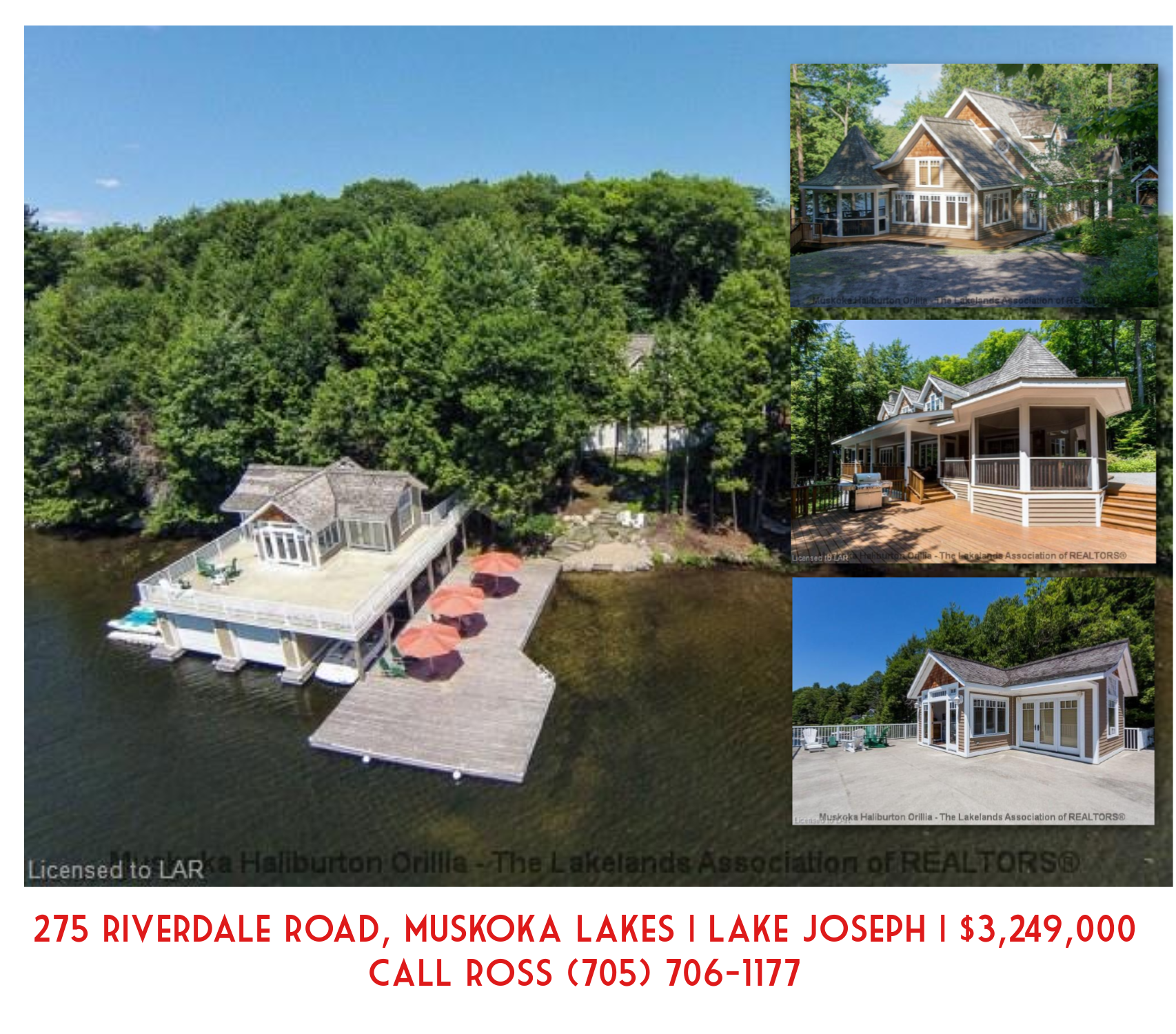 275 RIVERDALE RD, MUSKOKA LAKES
LAKE JOSEPH
$3,249,000 – MLS#205360